Packaging
State of the art packaging solution that is sustainable and functional.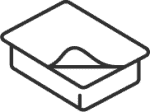 Meal Containers
Your fully cooked meals come packed in our sturdy, leak-resistant, microwavable, dishwasher and freezer-safe containers. These containers are not classified as single-use plastics as they are 100% reusable and recyclable! Every container includes a label with all meal information including ingredients, macronutrients, heating instructions, and expiry date.
Cooler Boxes
Your Athletes Kitchen delivery comes shipped in a cardboard box with insulators to keep your food fresh. These Canadian-made materials can be flattened down and recycled. Your box is handled with care by our personally selected delivery drivers.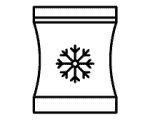 Ice Packs
Your food is delivered chilled using biodegradable ice packs. These ice packs paired with our box insulators keep your meals fresh for 10 hours after they leave our fridge! You can opt to return your gel packs to our facility for AK points, or simply drain the gel from the pack and recycle the bag.
AK Rewards
Earn AK points by returning delivery packaging! Ice packs and boxes can be returned to our location, or picked up by our drivers on your next delivery. Visit our AK Points page for more information.