Our Containers
Your meals come packed in our sturdy, leak resistant, microwavable and freezer safe packages. Our containers are dishwasher safe, for another use in your home, or are recyclable.
Paper Box
Your food delivery comes shipped in a 100% recyclable cardboard box and is made from recycled materials. Packaging can be recycled at home following delivery.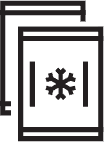 Ice Packs
Your food deliveries come chilled using biodegradable ice packs to keep food fresh upon delivery.